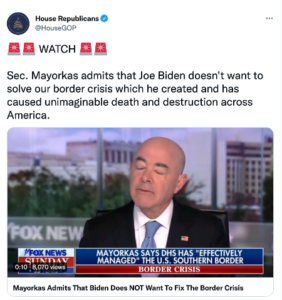 After the worst March in over two decades for illegal crossings at our southern border, Secretary Mayorkas appeared on Fox News Sunday and doubled down on the Biden administration's abhorrent open-border policies, which created this crisis.
Mayorkas "estimate[s] that we will" see an increased surge at our southern border due to the Biden administration's repeal of Title 42, but he still stands by the decision. Sec. Mayorkas also refuses to admit the Biden administration's open-border policies, including catch-and-release, are incentivizing people to cross our southern border illegally.
When asked what he needs from Congress to effectively enforce deportations, Sec. Mayorkas doubled down on this administration's Far-Left agenda by calling for "pathways" to help those who illegally enter our country "obtain relief under our laws."
BIDEN'S BORDER CRISIS BY THE NUMBERS:
MAKE NO MISTAKE: The Biden Border Crisis will only get worse as this administration continues to double down on their failed Far-Left agenda. The Biden administration clearly has NO plan to secure the border and end the chaos and mayhem this crisis is spreading in our communities.