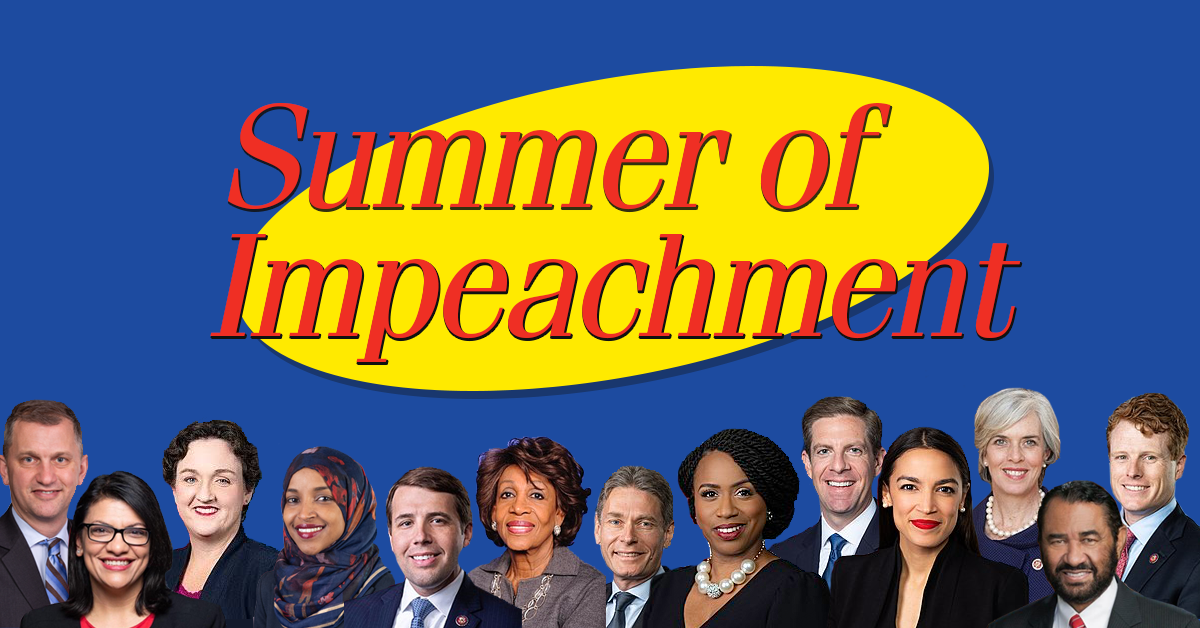 All: Speaker Pelosi claimed that House Democrats would "own" the month of August, but she must have meant that they'd get owned instead. As POLITICO reported this morning, their members' town halls back home have been dominated by far-left constituents demanding the President's impeachment, despite all polling showing widespread opposition to this approach.
Already, this has been the Summer of Impeachment with now well-over half of House Democrats in support of this effort. With recess winding down and members getting set to come back to Washington, their caucus faces a choice: will they work in a common-sense way to advance legislation that would actually help the American people – like ratifying USMCA or securing our borders – or will their pursuit of a partisan and baseless impeachment continue to command the sole focus of their party?
Politico: 'You Are Helping Him': Vulnerable Democrats Grilled On Impeachment
Andrew Desiderio & Sarah Ferris – 8/27/19
IRVINE, Calif. — Democrats hoping to avoid clashes over impeachment when they left Washington this summer are being confronted with a difficult reality at sometimes hostile town hall events.
Voters across the country — from California to Pennsylvania to Massachusetts — grilled House Democrats on the potential impeachment of President Donald Trump at a series of events this month, regardless of whether they support or oppose the drastic measure.
The very first question Rep. Katie Porter received at a town hall here, for example, was where she stood on impeaching Trump.
To rousing applause, the vulnerable California Democrat told the crowd that she favors impeachment — even though some worry it would play into the president's hands. Porter, who flipped a Republican seat in what is becoming a more liberal Orange County, also acknowledged the political dangers of her pro-impeachment stance.
…
The issue also resurfaced in a Democratic Caucus call this month, where Speaker Nancy Pelosi reiterated her cautious view on the subject.
"The public isn't there on impeachment. It's your voice and constituency, but give me the leverage I need to make sure that we're ready and it is as strong as it can be," Pelosi told House Democrats in the conference call last week, according to an aide.
"The equities we have to weigh are our responsibility to protect and defend the Constitution and to be unifying and not dividing. But if and when we act, people will know he gave us no choice," Pelosi added, a reference to Trump's stonewalling of myriad congressional investigations. "If he cannot respect the Constitution, we'll have to deal with that. It's about patriotism, not partisanship."
But liberal voters across the country, who flocked to town halls this month, say that politics is the exact reason Democratic leaders aren't acting on impeachment.