Floor Situation
On Wednesday, June 26, 2013 the House will begin consideration of H.R. 2231, the Offshore Energy and Jobs Act, under a rule. H.R. 2231 was introduced on June 4, 2013 by Rep. Doc Hastings (R-WA), Chairman of the Committee on Natural Resources, and has 11 cosponsors. H.R. 2231 was ordered to be reported by the Committee on Natural Resources, as amended, on June 12, 2013 by a vote of 23-18.[1]
Bill Summary
H.R. 2231 requires the Secretary of Interior to develop a new 5-year oil and gas leasing program that focuses on areas with the greatest potential resources and seeks to meet production goals that align with U.S. need. The bill also requires the Secretary to conduct three specific Outer Continental Shelf (OCS) lease sales in Virginia, South Carolina, and Southern California respectively.[1]
H.R. 2231 requires the Secretary, when conducting lease sales, to continue working with the Secretary of Defense within the framework of a 1983 Memorandum of Agreement (MOA) to maintain balance between the role of the OCS as part of the nation's energy security and the armed forces' use of the OCS to maintain military readiness.
The bill creates a new revenue sharing formula to be phased in for coastal states, but allows the current revenue sharing plan to continue for four Gulf states (Texas, Louisiana, Alabama, and Mississippi) under the Gulf of Mexico Energy Security Act. After the new revenue sharing formula is completely phased in, it will grant a 37.5% portion of the revenues received by the U.S. to all coastal states within 200 miles of leased track, dividing the proceeds among the states in relation to their proximity to the leased track.[2]
H.R. 2231 eliminates the Minerals Management Service (MMS), which was traditionally responsible for overseeing leasing and development of energy and mineral resources on OCS lands. The bill instead creates three separate agencies to handle various aspects of offshore energy operations.
H.R. 2231 also establishes a new Under Secretary of Energy, Land, and Minerals to oversee all offshore and onshore energy operations, ensuring that energy production is prioritized within the Department of the Interior.
H.R. 2231 authorizes for ten years the existing inspection fees imposed for offshore drilling, providing for adjustments in accordance with the Consumer Price Index. Other fee increases must be approved by Congress. The bill directs the proceeds to regional offices to fund inspectors in the field.
Background
The federal government is authorized to regulate offshore oil and gas development in areas outside the states' control.[1] A state's jurisdiction generally extends three geographical miles from its recognized coast.[2] The Outer Continental Shelf Lands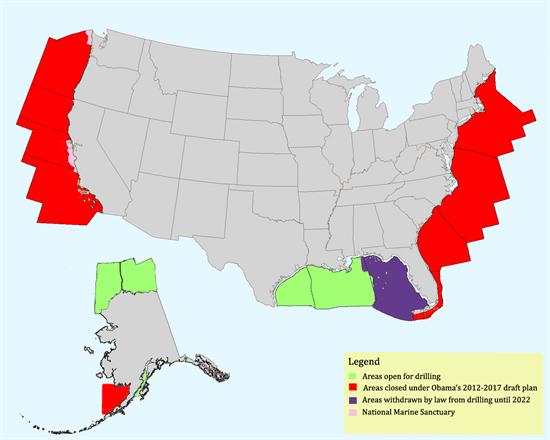 Act (OCSLA) gives the Secretary of the Interior the ability to grant leases to qualified bidders as well as to formulate the regulations necessary to enforce the OCSLA. Eligible areas of the OCS are determined through a 5-year oil and gas leasing program that is developed by the Secretary. To be eligible for leasing,an area mustbe included in an approved five-year plan.[3]
When President Obama assumed office, the Administration did away with an existing Draft Proposed Plan for the 2010-2015 period, creating instead a new 2012-2017 plan.[4] The new plan cancelled several lease sales and opened no new areas for development. Areas such as the entire West Coast and the entire Eastern Seaboard were completely excluded.[5] In sum, the 2012-2017 plan prevents 85% of the nation's OCS acreage from being developed.[6]
Although less than 3% of federal OCS lands are currently under lease, the producing leases on those lands in 2010 accounted for 30% of U.S. crude oil production and 10% of U.S. natural gas production.[1] Despite the importance of these resources to overall U.S. production, a recent report showed an 8% decrease in federal offshore production volumes for FY2012 and an 18% decrease since 2010
The MMS traditionally has been responsible for issuing leases, collecting revenues from the leases, and conducting safety oversight of offshore operations. However, oversight concerns and ensuing investigations, combined with the Deepwater Horizon explosion and oil spill, made MMS reorganization a pressing issue.[9]
Cost
According to CBO estimates, "enacting H.R. 2231 would reduce net direct spending by $1.5 billion over the 2014-2023 period. Pay-as-you-go procedures apply because enacting the legislation would reduce direct spending. In addition, CBO estimates that implementing the bill would cost $40 million over the 2013-2018 period, assuming appropriation of the necessary amounts. Enacting this bill would not affect revenues."
Amendments
1) Rep. Brady (R-TX) Amendment #17 – Requires the Secretary of the Interior to include those areas requested by State Governors in any environmental review conducted or statement prepared for the leasing program under the National Environmental Policy Act (NEPA).
2) Reps. Hastings (D-FL) and Connolly (D-VA) Amendment #15 – Strikes section 204 because it eliminates environmental evaluation typically provided by an Environmental Impact Study (EIS) and because conducting a single multisale EIS for decisions with different timelines creates unnecessary conflicts in the EIS process.
3) Rep. Lamborn (R-CO) Amendment #27 – Late. Ensures that the Department of Interior will not allow leases under the Outer Continental Shelf Lands Act to any person currently subject to sanctions by the U.S. Government under existing federal laws.
4) Rep. Flores (R-TX) Amendment #23 – Revised. Limits Bureau of Ocean Energy and Ocean Energy Safety Service activities related to the coastal and marine spatial planning component of the National Ocean Policy developed under Executive Order 13547. Requires a report be submitted to Congress identifying expenditures for fiscal years 2011-2013 by the Bureau of Ocean Energy, Ocean Energy Safety Service, and their predecessor agencies.
5) Rep. Cassidy (R-LA) Amendment #1 – Revised. Lifts the offshore energy revenue sharing cap, as provided by the Gulf of Mexico Energy Security Act of 2006, from $500 million to $999 million for each fiscal years 2024 to 2055.
6) Rep. Cassidy (R-LA) Amendment #2 – Revised. Stipulates that no later than 60 days after the date of enactment of H.R. 2231, the Secretary of the Interior shall issue rules to provide more clarity, certainty, and stability to the revenue streams contemplated by the Gulf of Mexico Energy Security Act of 2006.
7) Rep. Rigell (R-VA) Amendment #25 – Late Revised. Requires the Bureau of Ocean Energy Management to publish a record of decision on the Atlantic G&G Programmatic Final Environmental Impact Statement by December 31, 2013
8) Rep. DeFazio (D-OR) Amendment #10 – Prohibits offshore oil and gas leases in Bristol Bay off the coast of Alaska.
9) Rep. Broun (R-GA) Amendment #8 – Revised. Provides that all claims arising from projects taking place due to the underlying bill be filed within 60 days and resolved within 180 days. It would also place restrictions on appeals and institute a "loser pays" requirement on individuals or entities filing suit, except in specified circumstances, and stipulate that the amendment only applies to individuals or entities which are not party to the pending leases.
10) Rep. Grayson (D-FL) Amendment #14 – Ensures that no portion of this legislation is construed as affecting the right of any state to prohibit the management, leasing, developing, and use of lands (including offshore oil drilling) beneath navigable waters within its boundaries.
11) Reps. Capps (D-CA), Brownley (D-CA), and Lowenthal (D-CA) Amendment #18 – Ensures Section 203, relating to oil and gas lease sales in the Southern California planning area, and Title III, relating to OCS revenue sharing with coastal states, have no force or effect.
Additional Information
For more information, see the resource page on H.R. 2231 provided by the Committee on Natural Resources.
KEY MESSAGING
The President has implemented a virtual moratorium on oil and natural gas exploration and production in the OCS. His current 5-year leasing program blocks 85% of offshore areas from potential energy production.


By blocking OCS exploration and production, the President is also blocking the vast economic benefits it would provide.


In the long-run, offshore drilling has the potential to create 1.2 million jobs, $70 billion in wages, $2.2 trillion in tax receipts, and $8 trillion in additional economic output (GDP).[1]
House Republicans want to unlock energy production in these areas, creating jobs for the American people, driving economic growth, and reducing our dependence on foreign energy sources.